We All Scream
Pioneer PRO AUDIO Serves Clubgoers a Sweet Listening Experience
---
Colorful Ice Cream Inspired Club Installs Pioneer PRO AUDIO's XY Series Speakers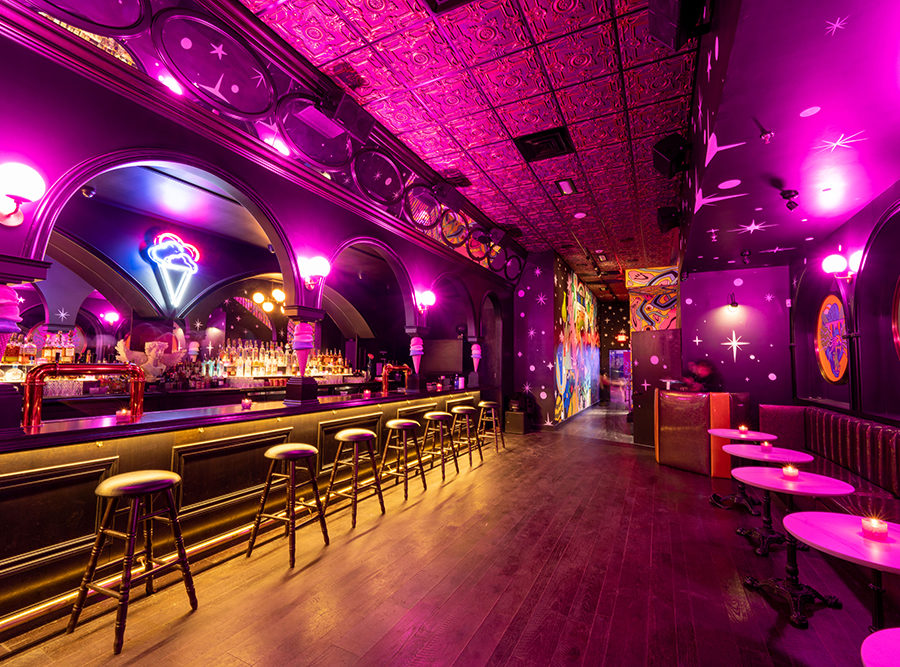 We've worked with Pioneer PRO AUDIO systems in similar venues in the past, they are always flexible, easy to install and set up, and have a great sound.

Ryan Doherty | Founder, Corner Bar Management
Take a walk down the historic East Fremont Street in Las Vegas, NV and you will come across We All Scream, a candy-colored dance wonderland attracting tourists and locals yearning for a sweet nightlife experience to beat the striking desert heat. Designed to satisfy the senses with eye-catching artwork, bright neon lighting, along with refreshing beverages and frozen treats, We All Scream relies on Pioneer PRO AUDIO to ensure every part of the multi-story club serves a satiating listening experience for guests, artists and staff.
"With two different DJ-driven outdoor dancefloors, We All Scream requires a system with the power to counter the cloud of surrounding noise from street traffic and the performance to uphold the artistic integrity of the music," said Ryan Doherty, Founder, Corner Bar Management. "With those particular needs in mind, we knew Pioneer PRO AUDIO was the ideal choice."
The vibrant,10,000-square-foot venue trusts Pioneer PRO AUDIO's XY Series to keep the party jumping from the moment the doors open to the last call. Compact in size, the versatile and robust PA/monitor speaker series delivers high-performance sound to fill every corner of the venue—a feature well-received by clubgoers and staff and We All Scream's lineup of DJs.
"I love playing at We All Scream, especially because the sound system is so incredibly good," said touring DJ, YehMe2. "If the system doesn't knock, the night won't pop. But that's not an issue at this spot."
Pioneer PRO AUDIO's XY Series' sound performance proves especially integral in the venue's back-alley patio. Behind the vivacious wall murals and a vast collection of local artwork, the deck is surrounded by cement walls and concrete flooring. What began as a recipe for disaster from the audio reverberance against the industrial surroundings resulted in a refreshing audio confection with the help of products including Pioneer PRO AUDIO's XY-218HS Dual 18" horn-loaded subwoofer.
"Pioneer PRO AUDIO has had the pleasure of working closely with Ryan and his team for a number of his eclectic and irresistible venues scattered throughout Las Vegas; however, having the opportunity to help power We All Scream has been the best treat yet," said David Sullivan, Sales Manager, Pioneer PRO AUDIO.
The cherry on top for Doherty and his ice cream-themed paradise? The XY Series' sleek, modern design aesthetic. The speakers are a core component of We All Scream's two unique DJ booths—one, a converted 1947 flamboyant milk truck tricked out in multi-colored neon lights. The other is a custom-designed ice-cream cone DJ booth with striking sprinkle lights to attract clubgoers to the rooftop dance area.
While the thought of racing out the door to catch the attention of the ice cream truck may lay as melted memories in mind, We All Scream Pioneer and PRO AUDIO serve a new sound experience for clubgoers to chase after.
With two different DJ-driven outdoor dancefloors, We All Scream requires a system with the power to counter the cloud of surrounding noise from street traffic and the performance to uphold the artistic integrity of the music. With those particular needs in mind, we knew Pioneer PRO AUDIO was the ideal choice.

Ryan Doherty | Founder, Corner Bar Management
At a glance
Pioneer PRO AUDIO Serves Clubgoers a Sweet Listening Experience
Club Area
XY-3B
8 installed
Club Area
XY-218HS
10 installed
Club Area
CM-S58T
14 installed
Ice Cream Shop
XY-81
10 installed
Ice Cream Shop
XY-118S
2 installed
Bathroom & Stairs
CM-C56T
10 installed